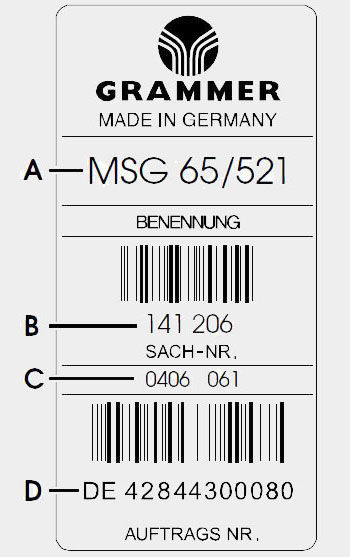 Looking for replacement parts for your Grammer seat? By just filling in your seat details in the below form, we will email you all of the documents you require to find the parts that you need.
-------------------------------------------------------------------------------
A large variety of accessories and spare parts for both OEM and aftermarket Grammer seats are available. By using the below Spare Parts Enquiry Form, you can enter the details from your Grammer seat and you will be sent parts lists and diagrams of your seat to identify the parts you require. Our sales staff will then be happy to provide you price and availability on the items you need.

                                                                                                                                                  In order to provide you with information relating to your seat, we will need the information located on the silver label on your seat. This is normally located either on the backrest of the seat, or on top of the suspension unit which can be seen from the back of the seat when the seat is slid forward. Some of seats found in trucks and lorries are located in the seat base pan which requires the seat base cushion to be removed to access it.

                                                                                                                                                                                                                                     The Seat Description and Part Number are required in order to provide you the correct parts lists and diagrams, however any additional information you can provide from the seat would be useful. The above graphic of the Grammer silver label identifies the information we require.
A = Seat Description,   B = Part Number,   C = Build Date,   D = Application Code


You will receive an automatic email within a few minutes of submitting your enquiry, which will contain a zip file of all the documents you require (please check your junk mail in case it gets redirected due to the attached file). Then just simply follow the instructions detailed on the email.